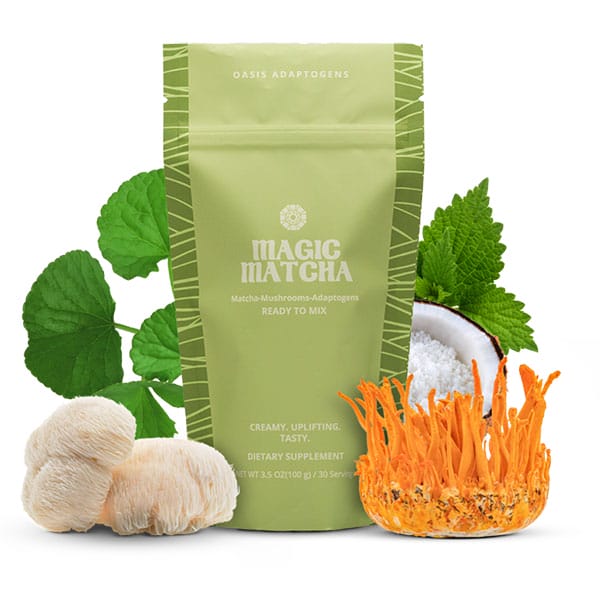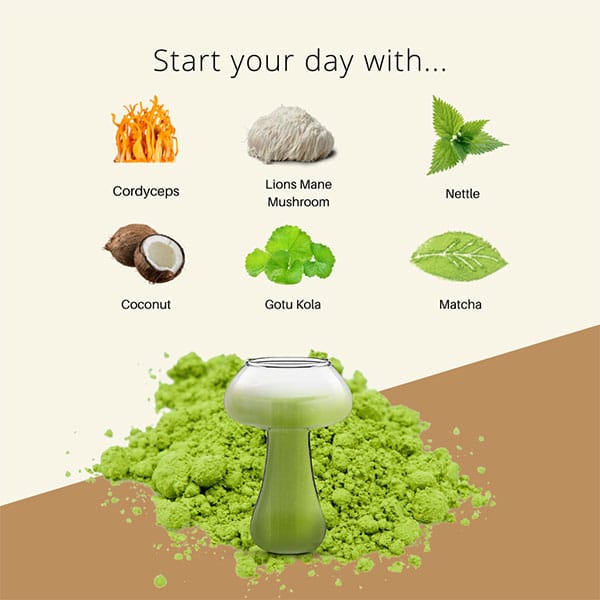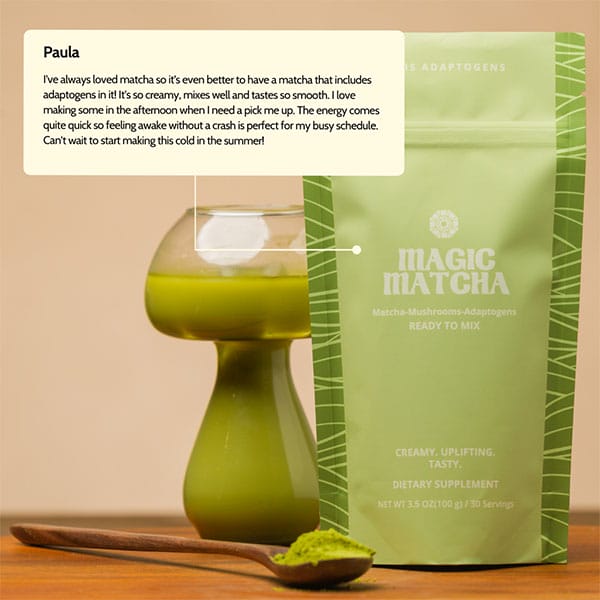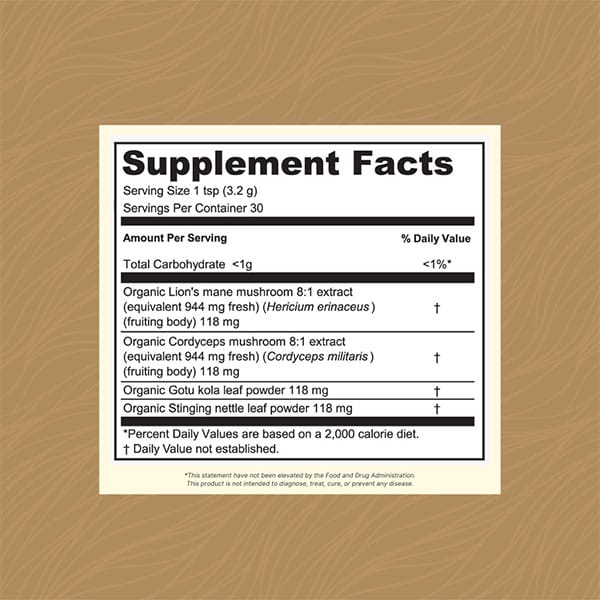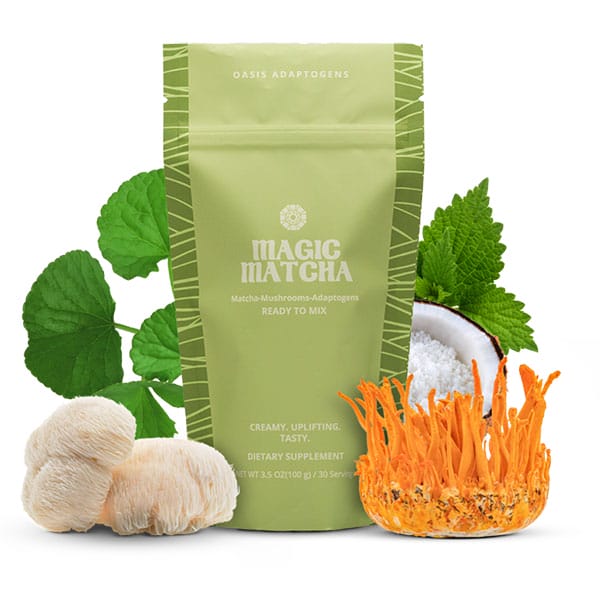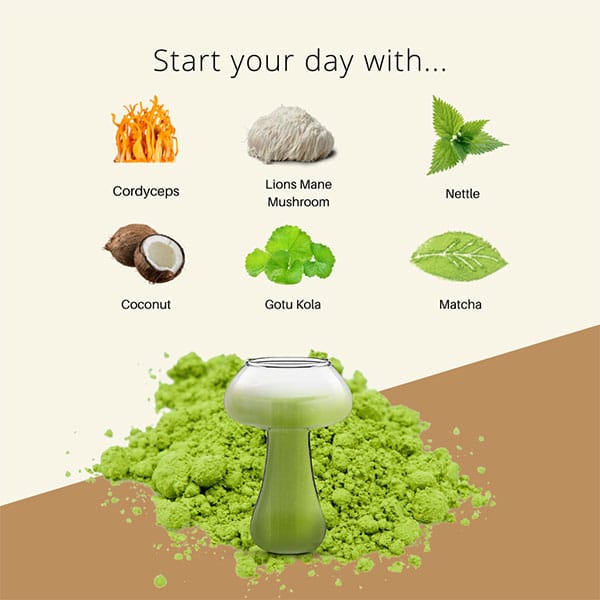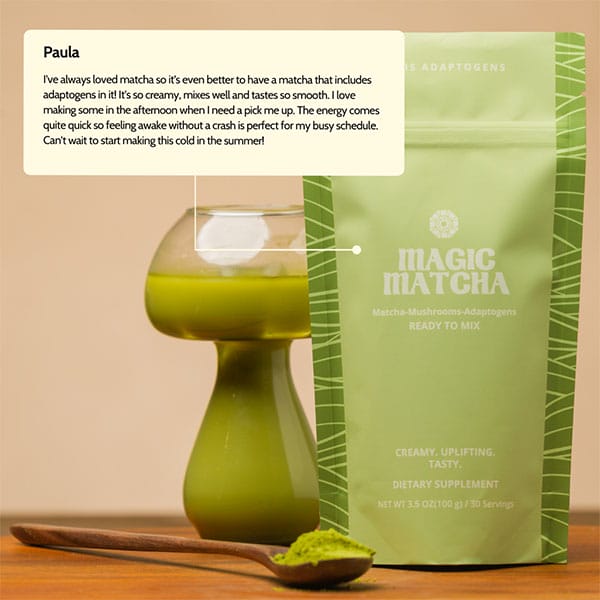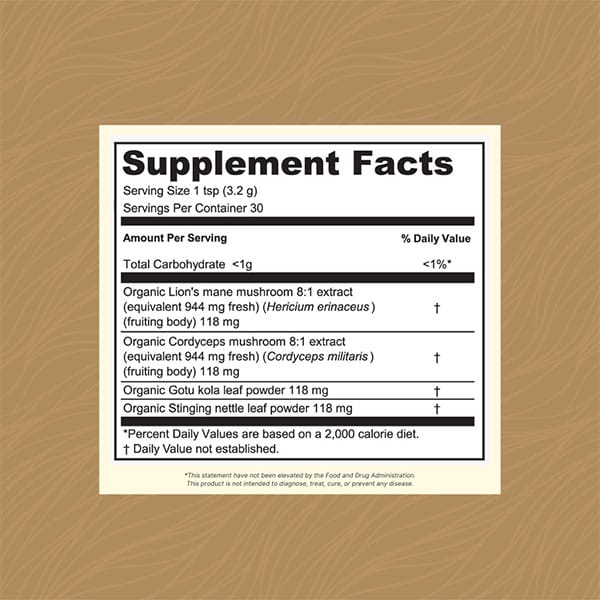 Magic Matcha
$40.00
$60.00
🏆 Award Winning "Best in Show" at Canada's biggest plant-based expo, Planted Expo!
Your favorite matcha elevated with the ancient wisdom of mushrooms, nootropics, and adaptogens. With a fraction of the caffeine, your cup of coffee has, this blend is crafted to calmly energize your days and support your daily routines without any crashes or jitters.
30 + Servings per bag

✓ Mushrooms, nootropics, & adaptogens used in herbal medicine
✓ Highly concentrated (most brands use 1:1 mushrooms, we use 8:1, literally 8 times more potent)
✓ Fruiting body mushrooms
✓ Fraction of caffeine of a cup of coffee (40mg/cup)
✓ Crafted to energize your days without jitters
✓ Nourishing and tasty for the body and mind
✓ No added sugars or sweeteners
✓ Mixes extremely well


Ingredients
Matcha (ceremonial grade), Coconut Milk Powder, Organic Lion's Mane Mushroom 8:1 Extract (fruiting Body)Equivalent 944mg fresh, Organic Cordyceps Mushroom 8:1 Extract (fruiting Body)Equivalent 944mg fresh (Militaris), Organic Gotu Kola leaf powder, Organic Stinging Nettle leaf powder.
Meet the Ingredients
The matcha you love, enhanced with highly-concentrated ingredients.Our uplifting blend has been consciously crafted to calmly energise your days, and support your wellness routine without any crashes or jitters. Magically kick coffee to the curb with Magic Matcha.
Matcha
Well known for its ability to

provide sustained, clean, zero anxiety energy

with a fair dose of L-theanine to help calm the body and mind. Matcha contains

high levels of antioxidants

(including the powerful EGCg), amino acids, vitamins, minerals (such as selenium, chromium, zinc, and magnesium), chlorophyll and fiber.
Lions Mane
(fruiting body extract 8:1)


Gaining popularity for its recent studies and

support for brain health & function

, using the high potency extract ratio paired with the L-theanine from the matcha makes this a key piece to the magic in our blend.
Cordyceps
(fruiting body extract 8:1)


known for decreasing fatigue, hyperglycemia,

increasing human exercise performance,

human cell mediated immunity and for

improving resistance to fatigue.
Gotu Kola
One of our founders & herbalist's favourite adaptogen. Studies show its ability to

enhance mood, cognition, memory, learning abilities

, and defending the brain for diseases.
Stinging Nettle
Stinging nettle

supports your gut health

while providing antioxidants in various forms

. A well kept secret from traditional medicine and delightful for the body.
Coconut Milk Powder
With a sweet taste and scent of coconuts, our powder is cultivated from the creamy meat portion of well matured coconuts. We have added coconut milk powder mainly for its flavour and texture, but also for its benefits which include being

high in saturated fats

, lauric acid, and vitamins B, C and E among

various antioxidants.
Easy to Prepare Matcha
1
POUR
Add 1 Tsp of Magic Matcha powder in 100ml of hot water
2
MIX AND FROTH
Stir desired sweetener topped with frothed desired milk
Many Ways to Enjoy
Shakes
Add it to your morning shakes
Smoothies
Add mushrooms to your smoothies for an adaptogenic kick
Baked
Enhance any baking recipe
Get This In My Routine
1% of every purchase is donated to four impact organizations!
Black Girls Smile
Earth Change
Rainforest Trust
LBGTQ Youthline
Check out over 3,000 customers finding their harmony
LISTEN TO WHAT CUSTOMERS ARE SAYING ABOUT OASIS
What Started oasis adaptogens
Hey there, my name is Jeremy Hoffmann . I am a recovered stress and stimulation addict. Now that might sound exaggerated, but truly, I was addicted to the stress hormones which lead to chronic fatigue, which in turn lead to severe stimulation addiction (caffeine, nicotine, social media) along with other health issues related to chronic stress.

I couldn't get up in the morning and when I did I was struggling to make it through the day. My energy was depleted and I was suffering chronic anxiety and physical pain. I was tossing and turning all night or simply staying up so late it made mornings even more challenging. All of these issues coupled with high doses of caffeine every day from drinking so much coffee, made for a very poor lifestyle, being constantly jittery and stressed out!

During this time, I learned first-hand how the medical system lacks the ability to fix the root of our health problems, without passing over a temporary fix. I spent years of my life suffering from chronic anxiety, stress, physical pain, and depression

I knew I couldn't be alone in this...
And I'm sure you're reading this thinking, 'that's me"...,
Well, that is because we're not alone. I was just like you.

I knew I needed to create natural solutions to my daily struggles.

In 2017 I began creating custom adaptogen formulations from my own formulations from inside my kitchen to help myself. While researching and experimenting my friends and family were able to see the improvements in my overall health and wellness
I had begun to find natural ways of reducing stress, facing my problems, mastering my energy, and embodying a strong discipline for being my best self, mind, body, and soul.

The most impactful change I made was incorporating functional mushrooms and adaptogens into my daily routine. The results were truthfully shocking. Within days and weeks I was having reduced symptoms and feeling myself return to 'being me' again.

I paired these products with wellness modalities such as breath-work, growth mindset, and movement which radically transformed my life, mind, body, and soul.

Late 2020 I decided to take everything I built, and bring it to the world. Ultimately I compiled a team of formulators that collectively has over 50 years experience in creating health and wellness products, and that's when our products we're born.

Although we've only been in business for 1 year...
Our whole team has over 50 years of experience and in just this year alone we've helped over 3,000 people change their lives for the better.
And if you resonate with these problems and transformations, then Oasis might be the best natural product you will ever try.
CEO, Founder
JEREMY HOFFMANN, FINDING YOUR HARMONY
FAQ
Questions aBout Matcha? we got answers
Have a question that isn't answered? Message us in the chat!
APPROVED BY REGISTERED THERAPISTS, HERBALISTS, NUTRITIONISTS AND DOCTORS
TOMMIE RICHARDSON
Medical Doctor/M.D.
"With Not Coffee my experience has been a smooth stimulant effect without jitters and with the out increased anxiety. I found it gave me energy and alertness and it has been providing endurance without feeling hyped. I would recommend it to any professional, athletes and any physician colleagues."
BRAEDEN CASHION
Naturopathic Doctor
"Virtually everyone experiences stress. Adaptogenic Fungi nourish the adrenal glands that play a major role in managing the body's stress response and provide key nutrition."
Kandra mcland
Registered Holistic Nutritionist
"The greatness lies in their capability to activate our immune system, regulate stress in the body, balance our hormones, and provide stable energy."
brian carew
Registered Respiratory Therapist
"Oasis has been paramount in my physical, mental, and emotional training. I've found adaptogenic mushrooms to be necessary aid in that mission of harmony and balance."
Maia Lise
Herbalist
"I love Oasis products! The power of our mushroom and plant allies is an experience that can be lived and felt. Adaptogens allow us to become a part of our environment and move with what comes our way, rather than being overwhelmed by it. They assist us in moving deeper into the experience of being human, and allow us to have the courage and stamina to dive into the work we came here to do."
BUNDLE DEAL
Not Coffee $60 + Balance $60
+ 3 FREE Magic Matcha Samples
+ FREE Shipping
Not Coffee $60
+ Balance $60
+ 3 FREE Magic Matcha Samples
+ FREE Shipping
$69.00
✓ Adaptogens Used in Herbal Medicine to increase energy and productivity
✓ Highly Concentrated Fruiting Body Mushroom Extracts
✓ Crafted to Energize Your Days Without Jitters
✓ Nourishing and Tasty For The Body and Mind
✓ Used in herbal medicine as adaptogens to support the immune system
✓ Used to help build resistance to stress and clear brain fog
Looking for a different taste in nourishment that still provides energy and focus?
Not Coffee
Shift your morning ritual with our synergistic blend that enhances your mental focus and provides natural energy and vitality—like drinking coffee, but… Not Coffee!
Learn More